MONTAGNE VERSUS HAUTE MONTAGNE : LES RECOMPOSITIONS TERRITORIALES DU PASTORALISME ARIÉGEOIS
In the Pyrenees of the Ariège French département, the restructuration of mountain cattle breeding and pastoralism is at the origin of a deep alteration of the relations that cattle farmers maintain with the altitude territories. Cleavage continues to widen between the fragility of cattle breeding in high mountain zones and the dynamism of cattle breeding of simple mountain zones. In this context, the pastoral revival allowed the appearance of a true proximity transhumance between pre-Pyrenean zones and altitude territories, distant from the traditional system of place organization in the high valleys, linked up to the practice of mountain summer pasture. In this new model, cattle farmers rather envision altitude pastures as an auxiliary resource, an economical opportunity favouring enlargement, while mountain summer pasture remains the organizing principle of cattle breeding in high mountain.
Dans les Pyrénées ariégeoises, la restructuration de l'élevage de montagne et du pastoralisme est à l'origine d'une profonde modification des relations que les éleveurs entretiennent avec les territoires d'altitude. Le clivage se creuse entre la fragilité de l'élevage en zone "de haute montagne" et le dynamisme de l'élevage des zones "de montagne simple". Dans ce contexte, la relance pastorale a permis l'apparition d'une véritable transhumance de proximité entre les zones prépyrénéennes et les territoires d'altitude, très éloignée du système traditionnel d'organisation de l'espace dans les hautes vallées, lié à la pratique d'estive. Dans ce nouveau modèle, les éleveurs envisagent plutôt les pâturages d'altitude comme une ressource d'appoint, une opportunité économique favorisant l'agrandissement, alors que l'estive reste le principe organisateur de l'élevage de haute montagne.
Fichier principal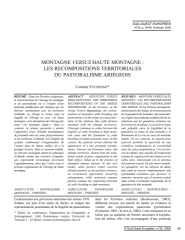 EychenneSOE2008.pdf (502.7 Ko)
Télécharger le fichier
Origin : Explicit agreement for this submission