Le pèlerinage des émigrés. Itinéraires de dévotion et missions catholiques italiennes dans la France du Sud-Ouest
The case of the Italian immigration in France allows to consider the question of religious attitudes and their long-lasting influence concerning an immigrant population's destiny. Besides the well-known and widespread catholic practices, the most interesting is to pinpoint the different changes caused by the migration itself. The analyse focuses on collective pilgrimages, considering the example of the populations stemmed from the Italian migratory wave settled in the Midi's countryside (region of Toulouse) from the 1920s onwards. Organised under the aegis of the Italian catholic Missions, those rituals represented practices of great moment in foreign country. That concerned, during the interwar period, the various "emigrants' pilgrimages" (and so-called) to local shrines, as well as the great Marian celebrations of the 1950-1960s, when tours were organised in France for the Virgins of Loretta and Fatima. The precise description of those ceremonies underlines the multiple dimensions at stake: renewal of ties for the migrant community, moment that people shared each other, celebration "in the Italian way" tinged with nostalgia, but also, on the contrary, affirmation of visibility in the settlement society itself, advent of new worship itineraries which contribute to create symbolic roots and appear finally as potential factors of integration.
L'ancienneté de la présence italienne en France permet de s'intéresser dans la durée à la question des attitudes religieuses et de leur influence sur le destin d'une population immigrée. Hormis les usages attendus du catholicisme, le plus intéressant est de repérer les transformations conditionnées par la situation migratoire elle-même. L'analyse met ainsi l'accent sur les pèlerinages collectifs, considérant le cas des populations issues de la vague migratoire transalpine établie à partir des années 20 dans les campagnes du Midi toulousain. Organisés sous l'égide des Missions catholiques italiennes, ces rites constituent un des temps forts de la pratique religieuse en terre d'immigration, que se soit, dès l'entre-deux-guerres, les divers " pèlerinages des émigrés " (et désignés tels) auprès de sanctuaires locaux, ou les grandes célébrations mariales itinérantes des années 50-60, lors des tournées en France des Vierges de Lorette et de Fatima. Leur évocation précise permet de repérer les différentes dimensions qui s'y entrecroisent : retrouvailles communautaires, moments partagés entre soi, célébrations " à l'italienne " empreintes de nostalgie, mais aussi, à l'inverse, affirmation d'une visibilité au sein même du pays d'accueil, naissance d'itinéraires de dévotion concourant à un nouvel enracinement symbolique et facteurs potentiels d'intégration.
Fichier principal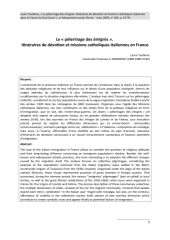 & 2004 rev. Mouvement social - pélerinage des immigrés.pdf (262.59 Ko)
Télécharger le fichier
Origin : Files produced by the author(s)