Critical analysis of cooperation development conditions inside an educational science research team
Analyse critique des conditions du développement de la coopération dans une composante de recherche en sciences de l'éducation.
What meaning cooperation takes on when it is about new research dynamic implementation and what are the operational modes in the current context? The present contribution takes up the sensible topic of the evolution of a research team who has chosen cooperation as analysis focus for a case study: creation of thematic key entry "change management and accompaniment" in UMR of Toulouse University. The analysis is based on documents requested by evaluation comities, minutes of meetings and a common publication. The results emphasise the capital gain brought by cooperative working as change vector in scientific practice, but the difficulties and the underlying issues as well.
Quel sens revêt la coopération lorsqu'elle porte sur la mise en place d'une nouvelle dynamique de recherche et quels sont ses modes opératoires dans le contexte actuel ? Cette contribution aborde le sujet sensible de l'évolution d'une composante de recherche en choisissant la coopération comme clef d'entrée d'une étude de cas : la création de l'entrée thématique « Conduite et accompagnement du changement » au sein d'une UMR de l'université de Toulouse. L'analyse s'appuie sur les documents requis par les instances d'évaluation, les comptes rendus de réunions et la production d'un ouvrage collectif. Les résultats soulignent la plus-value apportée par le fonctionnement collaboratif comme vecteur de changement des pratiques scientifiques, mais également les difficultés rencontrées et les enjeux sous-jacents.
Fichier principal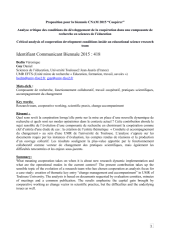 Article_VB_DG_CNAM_def.pdf (524.48 Ko)
Télécharger le fichier
Origin : Files produced by the author(s)