La Revolución ilustrada: la guerra civil mexicana en la literatura juvenil
Caravelle Cahiers du monde hispanique et luso-brésilien La Révolution mexicaine et ses représentations
In this article we shall study the scarce books for the youth published in Mexico about the theme of the Revolution, in order to show how their authors have apprehended their own history and iconography to be able to restore it to 21st century children. Between a pedagogical approach, as well as an artistic and entertaining one, these cultural objects offer a contemporary representation of the Revolution which reveals the gap between Mexicans living today and this emblematic war belonging to their history.
En este artículo analizaremos los escasos libros para jóvenes publicados en México sobre el tema de la Revolución con el objetivo de ver cómo los autores de estas obras se apropiaron de su propia historia y de su iconografía para restituirla a los niños del siglo XXI. Al oscilar entre enfoque pedagógico, artístico y de entretenimiento, estos objetos culturales ofrecen una representación contemporánea de la Revolución que revela la distancia que separa a los Mexicanos de hoy de esta guerra emblemática de su historia.
Dans cet article nous nous pencherons sur les quelques rares livres pour la jeunesse publiés au Mexique sur le thème de la Révolution afin de voir comment les auteurs de ces ouvrages se sont appropriés leur propre histoire et son iconographie pour la restituer aux enfants du XXIe siècle. Entre approche pédagogique, artistique et de divertissement, ces objets culturels offrent une représentation contemporaine de la Révolution qui révèle la distance qui sépare les Mexicains d'aujourd'hui de cette guerre emblématique de leur histoire.
Fichier principal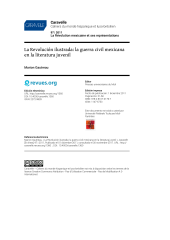 Article Gautreau - Caravelle - 2011.pdf (24.41 Mo)
Télécharger le fichier
Origin : Publisher files allowed on an open archive