How French trams are being used for city planning, as well as for improving urban mobility. Considering three case-studies: Bordeaux, Montpellier and Toulouse
El tranvía entre el transporte y la política de planificación urbana : Burdeos, Montpellier y Toulouse
Le tramway entre politique de transport et d'urbanisme : Bordeaux, Montpellier et Toulouse
In France, the return of the trams began by the mid 1980s. The various cities that have made such a choice act along very different ways, but improving public transport after a long period of overall neglect proves a common goal for them. Trams are also used to redeem neighborhoods and to reshuffle public areas. This paper analyzes both the public policies involved and their territorial translations, for three major urban areas of Southern France: Bordeaux, Montpellier and Toulouse.
El resurgimiento del tranvía en Francia, desde los años 1985, no se trata de la misma manera en las diversas aglomeraciones concernidas. Este resurgimiento responde a la voluntad de favorecer los transportes colectivos después de un periodo de retroceso considerable en todas las ciudades de provincia. El tranvía se inscribe también en las políticas de rehabilitación urbanística y de regeneración de los espacios públicos. Analizaremos estas políticas públicas y su aplicación en los espacios de tres aglomeraciones del Sur de Francia : Burdeos, Montpellier y Toulouse.
Le retour du tramway en France, depuis les années 1985, ne s'est pas fait de la même façon dans les différentes agglomérations concernées, mais il répond à la volonté de favoriser les transports collectifs après une période de recul marqué dans toutes les villes de province. Le tramway s'inscrit aussi dans les politiques de reconquête urbanistique et de réaménagement des espaces publics. Nous allons analyser ces politiques publiques et leur traduction dans les territoires de trois agglomérations du Midi de la France : Bordeaux, Montpellier et Toulouse.
Fichier principal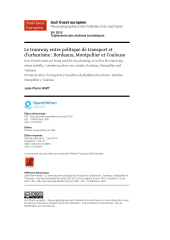 soe-39 2015.pdf (1.05 Mo)
Télécharger le fichier
Origin : Publisher files allowed on an open archive