A Daoist Career in Modern China. Wang Xin'an of the Southern Peak
Alive for most of the twentieth century, Wang Xin'an 王信安 (1918‑1993) lived through the deep and violent social changes from which emerged the Chinese nation‑state, technology, and modern economy. In the 1930s, he had been healed of his weak health and initiated in a monastic community by a master of the Quanzhen 全真 (Complete Authenticity) school. Then he became a master of Daoist liturgy, practicing both personal ritual techniques of internal alchemy and healing as well as the collective recitation of scriptures and offerings to the celestial hierarchy. Master Wang accomplished virtuous achievements and established his meritorious existence and identity. After 1949 he moved to Hunan province and became a leading official representative of the Daoist community of the Southern Peak. As the new state endowed Daoism with a national administrative hierarchy and a globalized leisure class and tourism industry developed, the Southern Peak was reinvented as a site of natural, cultural, and intangible heritage. Master Wang dedicated his life in this changing milieu to build official Daoism in Hunan.
Le portrait biographique du taoïste Wang Xin'an (1918-1993), maître de méditation, médecin et administrateur taoïste de tradition Quanzhen, permet de revisiter les processus d'institutionnalisation et de destruction du taoïsme à l'échelle de la province du Hunan (centre-sud de la Chine), des débuts du collectivisme jusqu'au socialisme de marché des années 1980-90, en passant par la Révolution culturelle. La vie de Maître Wang m'est connue de plusieurs biographies officielles, et des témoignages oraux et écrits de son disciple direct Li Jiazhong, mon principal interlocuteur lors de mon terrain de thèse. Lors du processus de collectivisation des années 1950, Maître Wang participa à la direction de la « Brigade de production agricole bouddho-taoïste [de la montagne sacrée] du Pic du Sud ». Suite à la campagne de rectification des Cents fleurs (1957) et du Grand bond en avant (1958), il fut catégorisé comme dissident « droitier », (youpai 右派) et démis de ses fonctions officielles. Une fois déporté dans son district natal durant la Révolution culturelle (1966-76), il continua néanmoins à pratiquer et à transmettre certains aspects du taoïsme au travers de son statut de « médecin aux pieds nus » (chijiao yisheng 赤脚医生). Une fois réhabilité, il a été rappelé pour gérer, depuis le Pic du Sud, le renouveau religieux des années 1980, dans le contexte d'une montagne patrimonialisée et ouverte au pèlerinage-tourisme de masse. Il était alors le président de l'Association taoïste d'État de la province du Hunan, chargée d'administrer, sous la tutelle du Bureau des Religions et du département du Front uni du Parti Communiste, la restauration des temples, les maîtres taoïstes et leur formation professionnalisante, ainsi que d'intégrer politiquement les très diverses communautés de culte de la province.
Fichier principal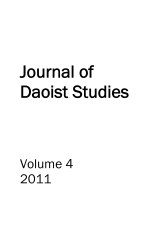 G.Favraud - Article - A Daoist career in Modern China.pdf (734.14 Ko)
Télécharger le fichier
Origin : Explicit agreement for this submission