Le figement dans la parole du personnage de roman
This paper explores how the putting of set phrases in to the mouths of characters within works of fiction contributes to style in four novels by Albert Cohen, namely Solal, Mangeclous, Belle du Seigneur and Les Valeureux. A wide range of such phrases have been collected, displaying every type of set phrase. Through the ironic use he makes of such expressions, the novelist finds a stylistic outlet for his critical awareness of language. The reader can, in turn, construct a representation of the characters which is based on their relationship to language, conformism, social belonging, authority, etc—a relationship used by the writer to orchestrate his characters' selfincriminations. Set phrases appear as the stylistic crystallization and connotative mark of the doxic freezing process. The first disqualification, on the sociolinguistic level, stigmatizes the petit bourgeois, and combines with a further ideological disqualification — that of the social group, through cohesive speech. Furthermore, the reader experiences the freezing processas he reads on, in novelistic diachrony. The satiric disqualification moves from group and language to couple and speech as it is constructed by the novel, so that the reader sees the freezing process at work. These two phenomenons, outside and inside the novel, locate the origin of these speeches above the characters' individuality, and therefore lessen their subjectivity and meaning. The freezing process is dealt in this way to make the reader experience in vivo what speaking really means.
Il s'agit d'étudier les modes et les effets stylistiques de l'attribution de formules figées à un personnage de roman, à partir de la tétralogie d'Albert Cohen : Solal, Mangeclous, Belle du Seigneur et Les Valeureux. On y observe un continuum orchestrant toutes les formes de figements. Leur mise en scène, au second degré, fait du roman l'expression esthétique d'une conscience critique du langage. Le lecteur construit, à partir de leur rapport à la langue, à la norme, au groupe et à l'autorité, une représentation des personnages disqualifiée par le figement. Le figement linguistique apparaît comme la cristallisation stylistique et l'indice connotatif du figement doxique. La première disqualification, d'ordre sociolinguistique, stigmatise le petit bourgeois, et s'articule à la disqualification idéologique du groupe social à travers la parole cohésive. S'y ajoute l'expérience du figement comme processus au fil de la diachronie romanesque. La disqualification satirique passe de la dimension du groupe et de la langue à celle du couple et du discours tel que le roman le construit : c'est le figement à l'œuvre. Ces deux phénomènes, externe et interne au roman, situent l'origine de ces paroles en amont de l'individualité des personnages, et partant les désubjectivise et les désémantise. Le figement, ainsi élaboré, orchestré et problématisé, confronte le lecteur, in vivo, à l'expérience de ce que parler veut dire.
Fichier principal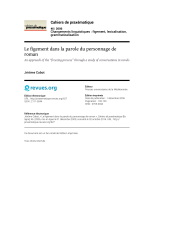 Cabot figement parole personnage.pdf (1.43 Mo)
Télécharger le fichier
Origin : Publisher files allowed on an open archive