Le Chasséen entre temps et espace : 20 ans de périodisations des assemblages céramiques et le retour de l'identité chasséenne
Developed in the late 1980s, the periodisations of the Chassey culture proposed separately by A. Beeching and J. Vaquer were the first to deal with the evolution of this archaeological culture and not only with the last traces of the Cardial culture or the first signs of the Late Neolithic. For the new generation of researchers that emerged from the mid-1990s onward, these two periodisations thus constituted important references. The two periodisations were very different in the structure that they suggested for the period, not only in terms of the geographical distance between them, but also in the methodology employed. This heterogeneity also characterises these new periodisations. This is explained mainly by the variety of the archaeological contexts exploited (stratigraphies vs. assemblages without stratigraphic links), which imposes appropriate and different methodologies, leading to dissimilar views of continuities and discontinuities between recognised stages. This contrast has improved our comprehension of the middle Neolithic in southern France and of the processes at work in the constitution of the Chassey culture. We now have solid bases from which to discuss the interactions between contemporary styles and to decipher the genesis of the Chassean cultural system.
Elaborées à la fin des années 1980, les périodisations du Chasséen proposées par A. Beeching et J. Vaquer sont les premières à s'intéresser à l'évolution même du Chasséen et pas seulement aux perdurations cardiales ou aux prémisses Néolithique final au sein d'assemblages, qui pourraient de ce fait constituer des transitions avec les périodes antérieure et postérieure. Pour la nouvelle génération de chercheurs qui émerge à partir du milieu des années 1990, elles ont ainsi constitué des références importantes. Ces deux périodisations étaient très différentes dans la structuration qu'elles proposaient pour la période, et ce non par l'éloignement géographique qui les sépare, mais surtout par la méthodologie employée. Cette hétérogénéité caractérise aussi ces nouvelles périodisations. Cela s'explique d'abord par la variété des contextes archéologiques exploités (remplissages stratifiés vs. assemblages sans liens stratigraphiques), qui imposent des méthodologies adaptées mais s'opposent par l'accent qu'ils mettent sur les continuités ou au contraire sur les discontinuités entre les phases. La compréhension du Néolithique moyen méridional, des processus qui sont à l'oeuvre dans la mise en place du Chasséen et dans la réflexion sur ce que peut être le Chasséen, a bénéficié de cette confrontation constante. Il est désormais possible de discuter sur des bases solides des synchronies entre styles différents et surtout de commencer à percevoir la genèse du système culturel qu'est le Chasséen.
Fichier principal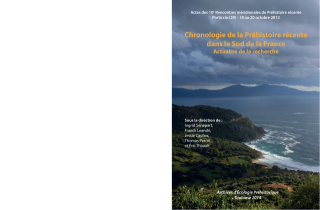 2014_RMPR10_Gernigon.pdf (5.08 Mo)
Télécharger le fichier
Origin : Publisher files allowed on an open archive