Coordination mechanisms and the role of interprofessional organizations in the innovation systems of the soybean, rice, and sunflower sector in Argentina
Mecanismos de coordinación y rol de las organizaciones interprofesionales en los sistemas de innovación de las cadenas de la soja, el girasol y el arroz en Argentina
Mécanismes de coordination et rôle des organisations interprofessionnelles (OIP) dans les systèmes d'innovation des filières soja, tournesol et riz en Argentine
This paper analyses the role of Argentinian interprofessional organizations (OIP) in the innovation systems of grain value chains. Three organizations are studied: ACSOJA, for the soybean chain, ASAGIR, for the sunflower chain and PROARROZ, for the rice chain. These OIP are interpreted as potential innovation networks and are part of the institutional structure of chains. They combine the logic of capital with territorial logic and initiate between these two logics a structural coherence that determines their specific role in the innovation process. The comparative analysis shows that the territorial and sectorial characteristics of each chain as well as the coordination mode chosen are significant to explain innovation results.
El artículo analiza el rol que, en Argentina, tienen las organizaciones interprofesionales (OIP) en los sistemas de innovación de las cadenas agrícolas de granos. Se estudian tres de estas organizaciones : la ACSOJA, representante de la cadena de la soja, la ASAGIR, para el caso del girasol y la PROARROZ, para la cadena del arroz. Estas OIP, interpretadas como redes potenciales de innovación, forman parte de la estructura institucional de cada cadena, conjugando la lógica capitalista global y la lógica político-territorial. Cada una de ellas logra una coherencia estructural específica según estas dos lógicas, tomando un rol particular en el proceso de innovación. La comparación entre la participación y los resultados en términos de innovación de estas organizaciones, evidencian las características territoriales y sectoriales propias de cada cadena, además de los diferentes modos de coordinación que de ellas resultan.
L'article analyse le rôle, en Argentine, des organisations interprofessionnelles (OIP) dans les systèmes d'innovation des filières grains. Trois organisations sont étudiées : l'ACSOJA pour la filière du soja, l'ASAGIR pour la celle du tournesol et la PROARROZ pour la celle du riz. Ces OIP, interprétées comme de potentiels réseaux d'innovation, font partie de la structure institutionnelle de chacune de ses filières, et conjuguent logique capitaliste globale et logique politico-territoriale. Chacune trouve une cohérence structurelle spécifique selon ces deux logiques et a un rôle particulier dans le processus d'innovation. Ainsi, les implications et les résultats obtenus par les OIP en matière d'innovation sont contrastés, exprimant les caractéristiques territoriales et sectorielles propres à chaque filière, mais aussi des options différentes de coordination.
Fichier principal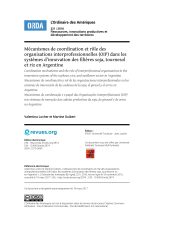 2016 ORDA Locher et Guibert.pdf (718.88 Ko)
Télécharger le fichier
Origin : Publisher files allowed on an open archive