To eat not to be eaten: Anthropology of food in the Bolivian Andes
Comer para no ser comido. Antropología de la alimentación en los Andes bolivianos
Manger pour ne pas être mangé. Anthropologie de l'alimentation dans les Andes boliviennes
This article aims at showing that reciprocity is not sufficient to understand relations linking human beings with predatory active powers in Bolivian North-Potosi. For locals farmers, neutralizing the predation by feeding non human entities with offerings is not enough. Human beings also need to feed themselves in order to avoid predation. Indeed, human beings have to keep themselves constantly full with food, blood and fat. Thanks to these contents, they are complete, self-contained and closed, therefore invulnerable. Human fat for instance acts as a container. Ingested foods constitute an immediate physical obstacle preventing all hostile entities from penetrating the human body through its openings.
Este artículo muestra que la reciprocidad es una noción insuficiente para comprender las modalidades de las relaciones que unen a los humanos con fuerzas activas depredadoras en el Norte-Potosí de Bolivia. Al alimentar a las entidades no humanas mediante ofrendas, los campesinos de esta región no desean únicamente neutralizar la depredación, sino también nutrirse a sí mismos para impedir el acto de depredación. En efecto, el hombre siempre anhela llenarse de alimentos, de sangre y de grasa. Gracias a estos contenidos, se vuelve completo, contenido y cerrado, y por lo tanto, invulnerable. Por ejemplo, la grasa humana sirve de contenedor. Finalmente, los alimentos consumidos se constituyen en un obstáculo físico inmediato que impide que cualquier entidad maligna se introduzca en el cuerpo humano a través de sus orificios.
Cet article vise à montrer que la réciprocité est une notion insuffisante pour comprendre les modalités des relations qui unissent les humains à des forces agissantes prédatrices dans le Nord-Potosi bolivien. Pour les paysans de cette région, il ne s'agit pas seulement de neutraliser la prédation en nourrissant des entités non humaines par le biais d'offrandes. Il s'agit aussi, en tant qu'humain, de se nourrir soi-même pour empêcher l'acte de prédation. En effet, l'homme veille à toujours se remplir d'aliments, de sang et de graisse. Grâce à ces contenus, il est complet, contenu et fermé et par là invulnérable. La graisse humaine par exemple fait office de contenant : plus qu'une partie représentant le corps, elle établit son rassemblement, elle le contient. Enfin, les aliments consommés constituent également un obstacle physique immédiat empêchant toute entité malveillante de s'introduire dans le corps humain par ses orifices.
Fichier principal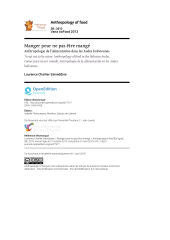 aof-7371.pdf (285.17 Ko)
Télécharger le fichier
Origin : Publisher files allowed on an open archive