Sphère d'interactions, complexe culturel : clefs de lecture de la variabilité géographique des expressions stylistiques du Chasséen
Defined by a Languedocian researcher based on an eponymous site in Burgundy, the Chasséen has since been mostly recorded through the study of southern assemblages. This has contributed to the prevailing view that the South was its place of origin and the only real representative of this culture. However, the criteria of identification and the attempts to define, implicitly or explicitly, only the southern Chasséen as an archaeological culture have always failed to embrace all of its diversity. The development of periodization and the better control of chronology have not put an end to the inability to explain the stylistic diversity of Middle Neolithic pottery productions in the framework of archaeological cultures. Moreover, while the stylistic attributes of a same ceramic assemblage are studied independently of each other, it is frequently found that they present different distributions. The keys to decipher this stylistic diversity must be found in a paradigm shift. Stylistic attributes must be considered as reflections of ceramic productions and not as by-products of ceramic assemblages that are partly fortuitous associations. The analysis of their diffusion and their evolution enables us to propose hypotheses concerning the nature of the phenomena which generate the observed stylistic diversity and thus leads to a real cultural approach to the Middle Neolithic.
Défini par un chercheur languedocien à partir d'un site éponyme bourguignon, le Chasséen a surtout été documenté depuis par des séries méridionales. Cela a contribué à privilégier le Midi comme lieu d'origine et seule référence véritable de cette culture. Pourtant les critères d'identification et les tentatives de définition, implicites ou explicites, du seul Chasséen méridional ont toujours échoué à embrasser l'ensemble de sa diversité. La mise au point de périodisations et la meilleure maîtrise de la chronologie n'ont pas mis fin à cette impossibilité de faire rentrer la diversité stylistique des productions céramiques du Néolithique moyen dans le cadre conceptuel de la culture archéologique. Si les attributs stylistiques d'un même assemblage sont étudiés indépendamment les uns des autres, on constate d'ailleurs qu'ils ont fréquemment des dynamiques de répartition différentes. Les clefs de lecture de cette diversité stylistique doivent donc être trouvées à travers un changement de paradigme. Il faut considérer les attributs stylistiques de la poterie comme autant de reflets des productions céramiques et non des associations en partie fortuites que sont les assemblages. L'analyse de leur diffusion et de leur évolution permet de proposer des pistes d'hypothèses quant à la nature des phénomènes à l'origine de la diversité stylistique observée et d'aboutir ainsi à une véritable approche culturelle du Néolithique moyen.
Fichier principal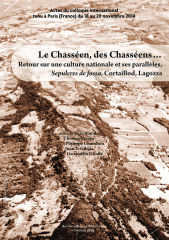 Gernigon 2016 Coll_Chasséen.pdf (7.1 Mo)
Télécharger le fichier
Origin : Explicit agreement for this submission