La carte et le territoire : le réseau écologique à l'épreuve de l'assemblée cartographique
Ecological network concept is a growing core element of conservation strategies. Based on the need to integrate ecological processes which underlie spatial dynamics of biodiversity at a landscape scale, network planning is largely based on a single model that allows the identification of natural core areas and linkage corridors. In this context a structural mapping approach is the most often used means to discuss and identify conservation issues at stake and to prepare recommendations for action. In this paper we analyze the process of ecological network construction at the scale of a Regional Natural Park in southern France. We show that by sticking to a classical and highly technical approach focused on mapping spatial organization, the group of actors involved was unable to produce neither a collective representation of the conservation stakes nor recommend a plan of actions. Our study highlights the need to integrate more correctly the ordinary biodiversity of the landscape matrix and consider that a mapping approach should above all make possible the construction and functioning of a social interaction process.
Le concept de réseau écologique devient un élément central des stratégies de conservation de la nature. En soulignant le besoin de tenir compte des processus écologiques qui sous-tendent l'organisation spatiale de la biodiversité et ses dynamiques à l'échelle des paysages, la planification des réseaux se base largement sur un modèle unique permettant d'identifier des coeurs de natures et les corridors qui les relient. Dans ce contexte, la carte est largement mise en avant comme support à la fois de réflexions et de recommandations pour l'action. Dans cet article, nous analysons la première étape du processus de planification d'un réseau écologique à l'échelle d'un Parc Naturel Régional du Sud de la France et montrons comment ce nouveau concept s'est confronté aux réalités du territoire. En restant centré sur une approche technique qui se focalise sur la cartographie du réseau écologique, le collectif d'acteurs n'a pu aboutir à une représentation partagée des enjeux et du dispositif d'actions à mettre en oeuvre. Pour penser et agir sur la nature ordinaire, la carte doit avant tout permettre de matérialiser un processus d'interaction sociale.
Fichier principal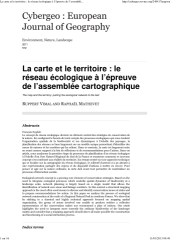 Vimal et Mathevet- 2012.pdf (324.39 Ko)
Télécharger le fichier
Origin : Publisher files allowed on an open archive