L'attachement au lieu, vecteur de mobilisation collective ? Etude de cinq territoires ruraux
This article draws on the spatial approach to understanding place attachment. Our goal is to contribute to this currently poorly developed approach by identifying the many types of place attachment, analyzing their effects on social and spatial dynamics, and apprehending how place attachment can enhance political engagement. Our analysis, based on 142 interviews conducted in 5 different rural territories, underscores the diversity of place attachment, in terms of valued entities (nature, modernity, tradition) and in terms of social and spatial implications. At the social level, we show that place attachment produces more conflicts than cooperation processes and that this kind of attachment is more often individual in nature than collectively shared. At the spatial level, the majority of place-attached actors are enlisted in the building of new knowledge and actions for the protection of valued entities. We wish to show that place attachment can be converted into political engagement if the inhabitants of a territory are active (1) in the transmission of feelings of attachment to others (identity-related link), and (2) in the accumulation of knowledge and the protection of valued entities and their environment (differential link). These two indicators are considered to be at the basis of the emergence of a collective spatial identity and a political engagement toward the places in question.
Cette contribution s'inscrit dans l'approche spatiale de l'attachement au lieu, encore peu développée dans la littérature. Notre objectif est d'identifier différents types d'attachements qui peuvent exister à propos d'un lieu, d'analyser comment cet attache-ment se manifeste auprès des autres et sur le territoire et d'appréhender dans quelles conditions un attachement au lieu peut poser les bases d'un engagement politique. L'analyse de 142 entretiens menés entre 2005 et 2015 sur cinq terrains d'étude en milieu rural souligne la diversité des formes que l'attachement peut revêtir, diversité en termes d'entités aimées (nature, modernité, tradition) et d'implications sociales comme spatiales. Au niveau social, nous montrons que l'attachement au territoire est davantage vecteur de conflit que de coopération et que s'il est très présent d'un point de vue individuel, il s'inscrit rarement collectivement. Sur le plan spatial si certains acteurs présentent un attachement restreint à quelques entités sans implication envers elles, la majorité des attachés se mobilisent dans la recherche de nouveaux savoirs et dans la protection des entités aimées. Nous souhaitons montrer ici qu'un attachement au lieu peut se traduire politiquement si les acteurs d'un territoire sont actifs 1) dans la transmission de l'attachement à autrui (lien identitaire) ; 2) dans l'accumulation de savoirs et pour la protection des entités aimées et de leur environnement (lien différentiel). Ces deux indicateurs représentent le terreau pour le développement d'une identité spatiale collective et d'un engagement politique en faveur du lieu aimé.
Fichier principal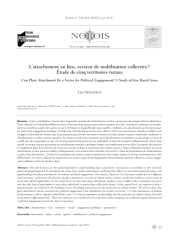 norois-attachement-ls.pdf (410.65 Ko)
Télécharger le fichier
Origin : Explicit agreement for this submission