Promoting constructive ergonomics : the conditions for a capacitating work
Hacia una ergonomía constructiva : condiciones para un trabajo capacitante
Pour une ergonomie constructive : les conditions d'un travail capacitant
Para uma ergonomia construtiva : as condições para um trabalho capacitante
The paper presents a constructive view of ergonomics, aiming not only at work efficiency but also at the continuous and joint development of workers and organizations. This approach articulates the socio-economic models proposed by G. Becker and A. Sen. It is illustrated by a study of decisionmaking between specialists in oncology, which have to propose appropriate treatments for complex cases. We show that the role of the team goes beyond decision aid : the discussion on specific cases implies a reflection on the rules themselves. Such a collective reflective activity stimulates the development of both individual and collective knowledge and guarantees the global reliability of the decisions. The conclusion introduces the concept of enabling environment, the characteristics of which are sketched.
Este artículo presenta los objetivos de una ergonomía constructiva apuntando no solamente a la eficacia del trabajo sino, también, al desarrollo constante y conjunto de los operadores y de la organización. Este enfoque articula los modelos socioeconómicos propuestos por G. Becker y A. Sen. Se le ilustra mediante un estudio del trabajo de un equipo de médicos especialistas en cancerología, que deben elegir una terapéutica para casos complejos. El trabajo muestra que, paralelamente a la toma de decisión sobre cada caso, los médicos reflexionan sobre las buenas prácticas favoreciendo así, por un lado, los saberes de cada uno y del equipo y, por otro lado, la fiabilidad global de las decisiones. El artículo finaliza con una reflexión acerca del concepto de entorno capacitante, del cual se esbozan sus características.
Ce texte présente les objectifs d'une ergonomie constructive, visant non seulement l'efficacité du travail mais le développement constant et conjoint des opérateurs et des organisations. Cette approche articule les modèles socio-économiques proposés par G. Becker et A. Sen. Cette approche est illustrée par une étude du travail d'un collectif de médecins spécialistes en cancérologie devant choisir une thérapeutique pour des cas complexes. On montre que, parallèlement à la prise de décision sur chaque cas, une réflexion sur les bonnes pratiques est menée, favorisant d'une part le développement des savoirs de chacun et du collectif, d'autre part la fiabilité globale des décisions. Le texte se conclut sur la notion d'environnement capacitant, dont les caractéristiques sont esquissées.
O artigo apresenta os objectivos de uma ergonomia construtiva, visando não apenas a eficácia do trabalho mas também o desenvolvimento constante e conjunto dos operadores e das organizações. Esta abordagem articula os modelos socioeconómicos propostos por G. Becker e A. Sen. Ela é ilustrada por um estudo do trabalho de um colectivo de médicos especializados em oncologia que têm que escolher uma terapêutica para casos complexos. Mostra-se que, paralelamente à tomada de decisão em relação a cada caso, eles desenvolvem uma reflexão sobre as boas práticas, favorecendo, por um lado, o desenvolvimento dos saberes de cada um e do colectivo e, por outro lado, a fiabilidade global das decisões. A conclusão introduz a noção de ambiente capacitante, cujas características são esboçadas.
Fichier principal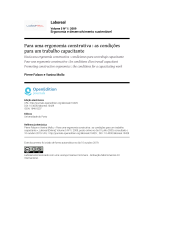 laboreal-10429.pdf (256.26 Ko)
Télécharger le fichier
Origin : Publisher files allowed on an open archive