Labour, school and the making of gender norms.
Le travail, l'école et la production des normes de genre.
Apprenticeship training essentially caters to a male audience. Female apprentices are confined to few specialised training sectors and face greater difficulties finding a job when they finish their training. To make sense of women's position within the professional education environment, the author propose first to connect gender and social class, and second to analyse apprenticeship more broadly by looking beyond its inclusion within the school system. These two conditions are necessary in order to apprehend both the mechanisms that contribute to the categorizations operated by the social and sexual division of labour and the making of gender norms. They also allow us to detect two simultaneous and contradictory movements: the apprentices' conformity to gender norms, on the one hand and their increased distance from the norms imposed by social class of origin on the other.
Les formations par apprentissage rassemblent un public essentiellement masculin, les apprenties étant, quant à elles, cantonnées dans quelques spécialités de formation et confrontées à de plus grandes difficultés d'insertion sur le marché du travail. Pour donner sens à la position des filles dans l'espace des filières professionnelles, l'auteure propose tout d'abord d'imbriquer rapports sociaux de sexe et rapports sociaux de classe, pour ensuite désenclaver l'analyse de l'apprentissage de la seule référence à l'école. Ces deux conditions sont nécessaires pour appréhender les mécanismes qui concourent aux catégorisations opérées par la division sociale et sexuelle du travail, et à la production des normes de genre. Elles permettent de repérer deux mouvements simultanés et contradictoires induits par l'injonction à se conformer aux normes de genre d'une part et à s'affranchir des normes de la classe d'origine d'autre part.
Fichier principal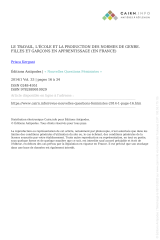 NQF_331_0016.pdf (467.02 Ko)
Télécharger le fichier
revue-nouvelles-questions-feministes-2014-1-page-16.htm (179.81 Ko)
Télécharger le fichier
Origin : Publisher files allowed on an open archive