Teachers' training
Formación docente
Formation de professeurs
The design of a teacher training on teaching proportionality can be based on the identification of difficulties of teachers, seen as symptoms of certain praxeological needs. However, in general, training proposals are met with resistance or objections from teachers: certain choices of organisation of the study offer advantages, the possible didactic costs of which teachers sometimes do not perceive. These costs have to do with the fact that the teaching of a given subject is generally conceived in isolation, at a particular level of study, while the didactic past and the didactic future of the subject of study would have to be taken into consideration. We illustrate our point in the case of the concept of a coefficient of proportionality to emphasize that overcoming a local problem at low cost can lead to other difficulties at unexpected levels.
La concepción de une formación docente sobre la enseñanza de la proporcionalidad puede fundamentarse en la identificación de dificultades del profesorado, vistas como síntomas de ciertas necesidades praxeológicas. Sin embargo, en general las propuestas de formación se enfrentan con resistencias u objeciones del profesorado: ciertas elecciones de organización del estudio ofrecen ventajas, cuyos posibles costos didácticos a veces no perciben los profesores. Dichos costos tienen que ver con el hecho de que la enseñanza de un tema dado se concibe generalmente de manera aislada, a un nivel de estudio particular, mientras que el pasado y el porvenir didáctico del tema de estudio tendría que ser tomado en consideración. Ilustramos nuestro punto en el caso del concepto del coeficiente de proporcionalidad para enfatizar que superar un problema local a bajo costo puede conducir a otras dificultades a niveles inesperados.
La conception d'une formation des enseignants à l'enseignement de la proportionnalité peut se fonder sur l'identification des difficultés des enseignants, considérées comme des symptômes de certains besoins praxéologiques. Cependant, en général, les propositions de formation se heurtent à la résistance ou aux objections des enseignants : certains choix d'organisation de l'étude offrent des avantages apparents, dont les éventuels coûts didactiques ne sont parfois pas perçus par les enseignants. Ces coûts sont liés au fait que l'enseignement d'une matière donnée est généralement conçu de manière isolée, à un niveau d'étude particulier, alors que le passé et l'avenir didactique de l'objet d'étude devraient être pris en considération. Nous illustrons notre propos par les problèmes que soulève l'étude du coefficient de proportionnalité pour souligner que le fait de surmonter un problème local à faible coût peut entraîner d'autres difficultés à des niveaux inattendus.
Fichier principal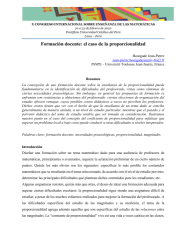 BourgadeJP_Conferencias PARALELA_VEnvoyée.pdf (574.1 Ko)
Télécharger le fichier
Origin : Files produced by the author(s)