QUELQUES PISTES DE REFLEXION POUR UNE MEILLEURE PRISE EN COMPTE DU RISQUE SOCIAL DANS LES POLITIQUES MARKETING
This article aims at exploring a dimension of the risk concept that have been scarcely studied in marketing research : the social risk. This dimension has the particularity to focus more on the relationship between the consumer and his circle of acquaintances than on the consumer product link. In this work, we describe the nature of social risk trought risky situations analysis. Beside, specific antecedents, moderators, and consequences of social risk perception will be analysed.
Session : Groupes d'influence et évaluation du risque Article présenté au 2 ème atelier de recherche AFM, « Percevoir et identifier les risques en marketing », Sorbonne, le 17 Décembre 2003 Session : Groupes d'influence et évaluation du risque Résumé : Cet article cherche à explorer une dimension du risque relativement peu traitée dans la littérature marketing : le risque social. Ce dernier présente une particularité importante par rapport aux autres dimensions du risque : sa perception est moins liée à la relation du consommateur au produit qu'à ses rapports avec son entourage, analysés sous l'éclairage de la possession. Dès lors, ce travail s'attache notamment à décrire la nature du risque social en mettant en évidence les situations risquées. Des antécédents, des modérateurs et des conséquences spécifiques à la perception du risque social seront par la suite examinés.
Fichier principal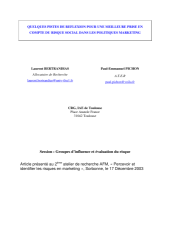 articleSorbonne.pdf (154.7 Ko)
Télécharger le fichier
Origin : Files produced by the author(s)