Le terroir dans tous ses états: entre paradigme discursif et fragmentation des conceptions
The multiple uses of the concept of « terroir » – often benevolent – reveal the heterogeneity of situations, actors and logics linked to it. As a fragmented reality, it implies a variety of knowledges and empirical realities, but in 2005, UNESCO adopted a new definition of the concept of terroir as a part of a process of international normalization. This chapter offers a critical approach of the emergence of this concept by means of its scientific, politic and professional history. Its international and institutional recognition through a definition, whose local operationalization translates into forms of hybridization of the notion, is here discussed. Because this conceptual cohesion faces numerous empirical realities in which local reappropriations do not necessarily match with the original model, considering the terroir as a paradigm allows a critical examination of its epistemological and ideological significations. The few perspectives described in this article show the influence of an occidental conception, embedded in ideology of sustainable development, accommodated in the capitalist economy.
Si l'on fait dire au terroir beaucoup de choses, teintées souvent de bienveillance, il est plutôt un mot valise qui recouvre une pluralité de situations, d'acteurs et de logiques. Tout en étant une réalité fragmentée, tant au niveau des savoirs et que des réalités empiriques, l'adoption d'une définition du terroir par l'UNESCO en 2005 participe d'un processus de normalisation à vocation internationale. Ce chapitre propose ainsi une approche critique de l'émergence du concept à la lumière de son histoire à la fois scientifique, professionnelle et politique. Sa reconnaissance institutionnelle internationale au travers d'une définition dont l' « opérationnalisation locale » vient traduire des formes d'hybridation de la notion est discutée. Cette cohésion conceptuelle se heurte à des réalités empiriques plurielles où les réappropriations du concept opérées localement ne correspondent pas nécessairement au modèle tel qu'il avait été envisagé. Considérer le terroir comme un paradigme permet de faire un examen critique de ses soubassements épistémologiques et idéologiques. Les quelques pistes ici formulées soulignent dès lors une conception occidentalo-centrée, elle-même aux prises d'une idéologie du développement durable intégrée dans les mailles du capitalisme.
Fichier principal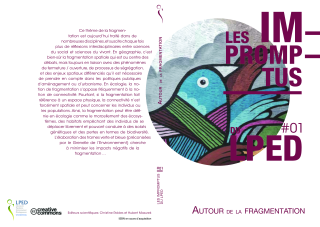 LES IMPROMPTUS n°1-Le terrroir dans tous ses états.pdf (675.3 Ko)
Télécharger le fichier
Origin : Explicit agreement for this submission