The book, the computer and the armchair.
Le livre, l'ordinateur et le fauteuil
The study on the poor in public library, written for the central public library Joé Cabanis in Toulouse (France), shows that the poor do not behave in specificities ways when in public libraries, except for contextual reasons (toilets, water, electric plugs) : libraries tend to prequalify people due to the generally inspiring body constraint and the cultural norm. This kind of requalification even tends to boost people when they enter in touch with ordinary people and ask cultural explanations ou help to librarians. This particular relationship pushes them towards ordinary categories of patrons and uses of cultural and Internet resources. The library can even be restructuring for people alone or adrift away from social links.
L'enquête sur les usagers pauvres, commanditée par la direction de la bibliothèque publique de Toulouse, montre que ces publics n'ont pas, au-delà d'usages circonstanciels transitoires (toilettes, prises téléphone, point d'eau) un usage spécifique des lieux et des ressources : en plus du lieu qui qualifie de par la contrainte corporelle et la norme culturelle qu'il tend à imposer, leurs interactions avec les autres usagers et les relations avec les professionnels de la bibliothèque tendent à les faire rentrer dans les catégories ordinaires d'usage des ressources culturelles et médiathèques proposées sur place. Le lieu est qualifiant et même structurant pour les individus en perte de lien social.
Fichier principal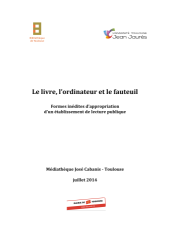 rapport final copie.pdf (10.92 Mo)
Télécharger le fichier
Origin : Files produced by the author(s)