Oscar, Derrida's Cat, and Other Knowing Animals
In confrontations with animals, particularly in circumstances involving death, human knowledge suddenly appears limited. Other forms of knowledge have to be taken into account. The case of Oscar, the cat who predicts patients' death in a Rhode Island hospital, indicates that animals know things that are concealed from us. Our knowledge is limited, a premise that Derrida analyses in The Animal that Therefore I Am, where he admits that the philosophical literature about animals does not satisfactorily justify his human difference. Barry Lopez shows that our knowledge is not only insufficient when it comes to accounting for the agony of a school of beached whales, but that it is a poor substitute for our perplexity in the face of death. Heidegger's analysis in Being and Time offers an affirmative conception of the confrontation with death. Death ceases to be the destabilizing nothingness that threatens our existence and instead provokes knowledge. The study of two correlated texts, by Dickey and Dillard helps nuance the heroic Heideggerian conception of death. Finally, Loren Eiseley hints at a possibility that only literature can afford. Instead of attempting to seize the world through culture or envying animals' authenticity, human beings can acquire tangential perspectives upon their world and that of animals.
Dans ses confrontations avec les animaux, particulièrement dans des circonstances où la mort est présente, le savoir humain s'avère insuffisant. D'autres formes de savoir doivent être prises en compte. Le cas d'Oscar, le chat qui anticipe la mort des patients d'un hôpital du Rhode Island, montre que les animaux savent des choses que nous ignorons. Notre savoir est limité, point de départ de la réflexion de Derrida dans L'animal que donc je suis, dans lequel il constate que la littérature philosophique sur les animaux ne suffit pas à justifier son humaine différence. Barry Lopez montre que notre savoir est insuffisant pour rendre compte de l'agonie d'un groupe de baleines échouées ; il n'est qu'un expédient assez faible pour dissimuler notre perplexité devant la mort. L'analyse de Heidegger dans L'être et le temps présente une conception positive de la confrontation avec la mort. Loin d'être un néant déstabilisateur qui menace notre existence, la mort est source de savoir. L'étude en miroir de deux textes de Dickey et Dillard nous aide à nuancer la conception héroïque de la mort selon Heidegger. Finalement, Loren Eiseley signale une autre possibilité que seul la littérature est en mesure d'offrir. Au lieu d'appréhender le monde à travers leur culture ou d'envier l'authenticité des animaux, les êtres humains bénéficient de visées tangentielles sur le monde et sur les animaux.
Fichier principal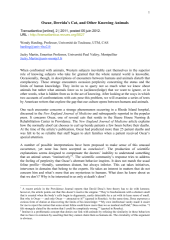 Harding_Martin_Transatlantica.pdf (256.13 Ko)
Télécharger le fichier
Origin : Files produced by the author(s)